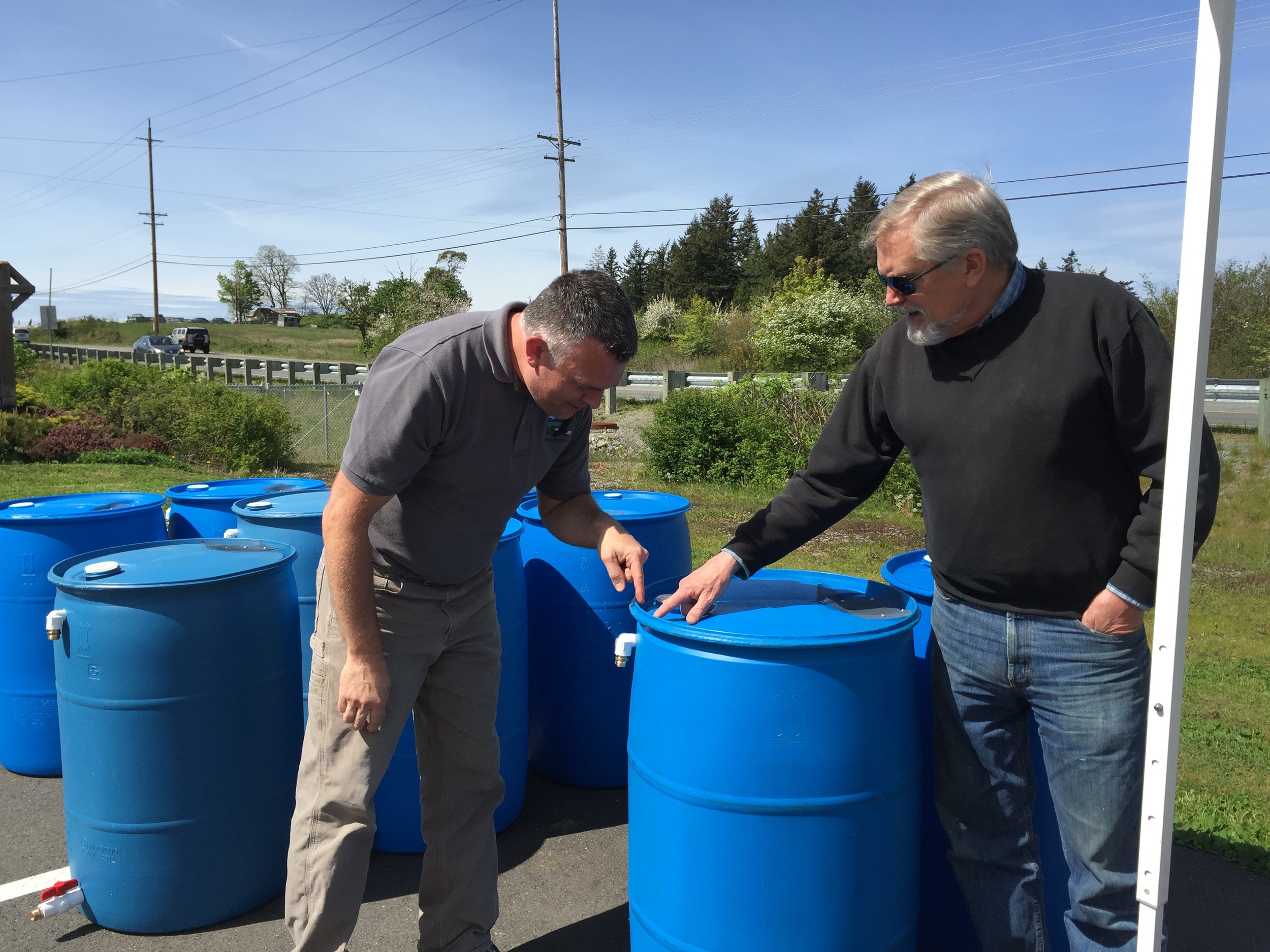 We all know that Boeing is in the business of building high-quality planes. As it turns out they are also great rain barrel assemblers! Last Friday, April 15th Boeing partnered with Snohomish Conservation District, Mukilteo Elementary and Boy Scouts to turn a whole truckload of 55-gallon drums into rain barrels. In just over 2.5 hours they assembled 150! These barrels were taken to a public rain barrel sale on Camano Island, where 46 were sold to happy locals. Those who bought rain barrels will be able to store and re-use roughly 2,530 gallons of water! St. Aidan's Episcopal Church and vicar Fr. Drew supported the sale by providing the venue, helping to promote, and assisting with set up.
In addition to assembling rain barrels, Boeing Volunteers also laid mulch in the Mukilteo Elementary outdoor classroom and helped hand dig a rain garden. Young Boy Scout leaders, who were pivotal in the creation of the outdoor classroom, and teacher Sue Idso, gave volunteers a tour of the outdoor classroom – pointing out the habitat structures purposely built to provide a haven for urban wildlife while providing memorable outdoor science opportunities for elementary students. This year alone, over 90 classes have taken place in the Mukilteo outdoor classroom.
All in all, this group of Boeing employees and family members did an incredible job! District Community Engagement Manager, Kate Riley, couldn't say enough good things about working with Boeing Company.
"Boeing has been an incredible partner – from their active volunteerism and their commitment to supporting local environmental work, to their desire to address stormwater pollution at their factories by installing rain gardens."
This year, in partnership with The Nature Conservancy, Boeing provided $90,000 of funding to support Snohomish Conservation District and partners in implementing key conservation initiatives including rain garden demonstration projects in Edmonds and the regional Better Ground Campaign.